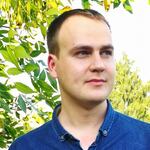 Vyacheslav Moskalenko
Joined about 6 years ago.
Bio
Viacheslav Moskalenko is an Associate Professor of Computer Science and the head of 3D-Innovation Lab at Sumy State University (Ukraine).
He holds a PhD in Computer Science from National Technical University Kharkiv Politechnical Institute.
V. Moskalenko is the author of more than 50 scientific publications on information-extreme algorithms of machine learning, population-based optimization methods for intelligent control of weakly formalized processes, 3D modeling, 3D printing and scanning.
Links
Works at: