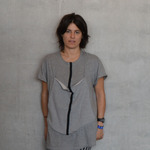 Anastasia Pistofidou
Joined almost 10 years ago.
Bio
Anastasia Pistofidou is a Greek Architect currently working at Fab Lab Barcelona/IAAC as the Fab Textiles and Fabricademy Director, specialized in hardware development, rapid prototyping and design to production applied to textiles and Fashion. With an architecture degree from AUTH Aristotle University, Thessaloniki and a Master Degree from IAAC, (Fabbots 2011) she worked at Fab Lab Barcelona applying digital fabrication technologies to installations, artistic creations, prototyping, architecture, furniture, interiors , exhibitions and products.
She developed a personal applied research line on textiles, soft architectures and innovative materials : fabtextiles.org. Experimenting with new materials and processes, combining digital fabrication techniques and crafts, her work is demonstrating how new technologies can shift the massive consumption of fast fashion to a customized, personal and local fabrication applied on education and every day life. In 2017 she co-founded Fabricademy, Textile and Technology academy, a 6 month course that runs in various fab labs of the world with a special focus on the implications and applications of digital fabrication in the textile and fashion industry.
Links
Contributions