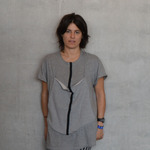 Anastasia Pistofidou is a Greek Architect currently working at Fab Lab Barcelona/IAAC as the Professional Projects Director, specialised in hardware development, rapid prototyping and design to production. With an architecture degree from AUTH Aristotle University, Thessaloniki and a Master Degree from IAAC, (Fabbots 2011) she worked at Fab Lab Barcelona applying digital fabrication technologies to installations, artistic creations, prototyping, architecture, furniture, interiors , exhibitions and products.
She developed a personal applied research line on textiles, soft architectures and innovative materials : fabtextiles.org. Experimenting with new materials and processes, combining digital fabrication techniques and crafts, her work is demonstrating how new technologies can shift the massive consumption of fast fashion to a customised, personal and local fabrication applied on education and every day life.
She is also a founding member at FirstV1sion.com, developing a wearable t-shirt for sports, that integrates a camera with a HD transmission system.
Her artistic public interventions are together with a multidisciplinary collective, chinos international.cc , an activist group of programmers , interaction designers and artists.