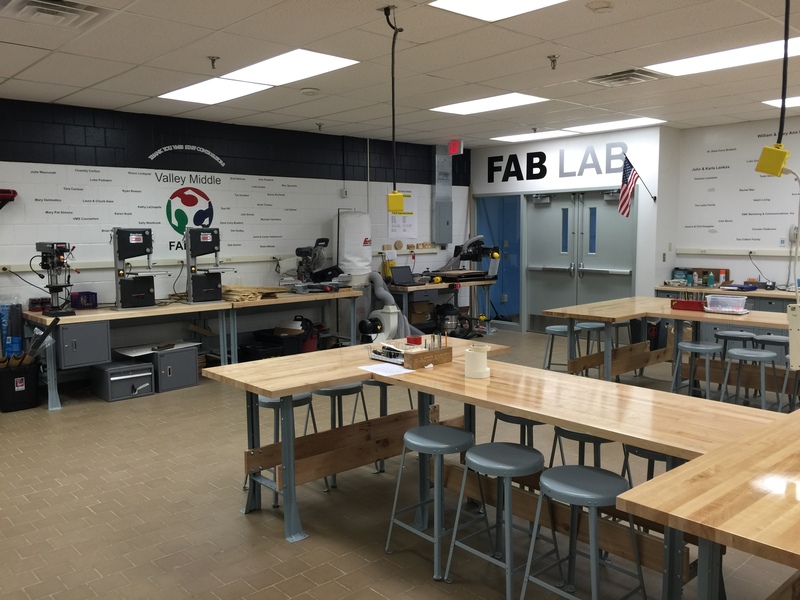 Valley Middle School of STEM's FAB LAB
https://www.fablabs.io/labs/valleymiddleschoolofstemsfablab
900 Garden View Drive, Apple Valley, 55124, United States of America
Valley Middle School of STEM is a comprehensive STEM middle school with the Triple A philosophy of excellence in academics, activities and athletics. The community at Apple Valley emphasizes communication, collaboration and problem solving. The Valley Middle School of STEM Fab Lab is designed to support the school mission (Rigor, Relevance, Relationships: Educating a Global Community of Innovative Thinkers) providing opportunities for students and adults to solve real world problems through imagination, innovation, collaboration, and technology.
The FAB LAB is utilized across our curriculum with our Basic Engineering class using it daily. Other classes that use the lab include our 7th and 8th grade Global, Communication, and Multimedia classes, as well as our CIP class. There is also an after school FAB LAB class offered to our 6th, 7th, and 8th graders throughout the school year. Our FAB LAB coordinator collaborates with teachers all over the school to figure out new ways to create, innovate curriculum.
The FabLab space is available for teacher, classroom, and community use. Community education is offering various school age summer camps that are taught by VMSS teachers. The lab is financially and conceptually supported by 2 different local businesses , BTD and Stratasys, as well as individual donations.
Links
Lab Capabilities
Stampa 3D
Fresatura CNC
Produzione di circuiti
Incisione e taglio laser
Taglio vinile
Discuss this Lab on forum.fablabs.io