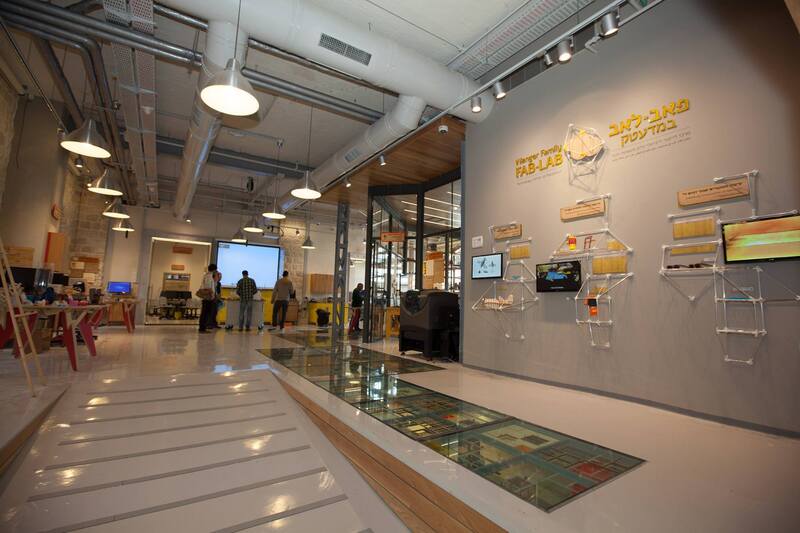 Wanger family FabLab at MadaTech
https://www.fablabs.io/labs/fablabmadatech
Balfour 12, MadaTech Museum, Education Building, Haifa, Israel
The Wanger Fabily Fab-Lab @ Madatech science museum features 350 square meters of fab space, and is one of the largest 3D printing fab-labs in the world.
We aim to be at the leading edge of integrating maker activities in the education system. But we also maintain a community of makers who work on high-level projects in the afternoon -multi-level CNC (from x-carve to shopbot) , arduino, urban agriculture , furniture design with Fusion 360 and CNC and more
Equipment list -
25 FDM printers (11 - UP Plus2, 13 - Ultimaker2, 1 MB Replicator2)
2 - Objet Eden 250 PolyJet printers
1 - 90X60 cm laser cutter, chinese firm
2 - vinyl cutters, chinese firm SAGA and Graphtec
1 Shopbot 96X60X12 with vacuum table and other improvements such as air cooling for cutting Al.
1 Inventables Carvey Tabletop CNC mill 20X30cm (effective)
1 Inventables X-Carve Tabletop CNC mill 850X850cm (effective) with Dremel spindle
34 networked i7 PC workstations with class management tools
6 3D scanners (3D systems Sense)
Dedicated room for manual work, with various tools including bandsaw, drill press and more
check out new projects and announcements at our facebook group - link below
Links
Lab Capabilities
Impressão 3D
Usinagem CNC
Produção de circuitos
Corte Laser/Gravação
Usinagem de precisão
Para quem é voltado o fablabs.io?
Machines
Discuss this Lab on forum.fablabs.io