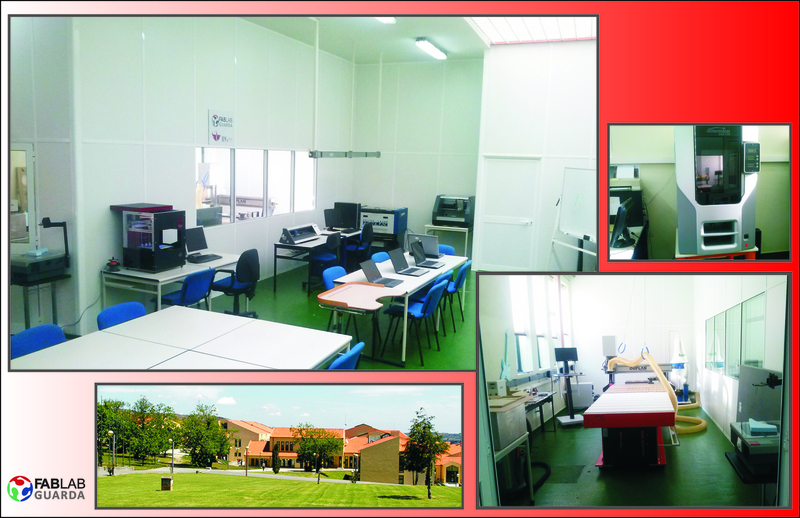 Fab Lab Guarda
https://www.fablabs.io/labs/fablabguarda
I P G - Instituto Politécnico da Guarda , Av. Dr. Francisco Sá Carneiro 50, Guarda, 6300-559, Portugal
Set up in 2008, the rapid prototyping laboratory of the Polytechnic Institute of Guarda has helped the local and regional community in the field of innovation from the very beginning. Initially, it only provided support to some innovators in digital 3D modelling and 3D printing with their models and prototypes. At that time some spin-offs were using this lab to carry out their experiments, leading to, in some cases, the registration of patents in the areas of engineering and industrial design.
These days the support provided to the community is much broader in the field of prototyping and digital manufacturing, thanks to modern tools that are now available in FabLab Guarda. These tools allow the manufacture of a product from the starting point of a virtual model using various types of technological processes apart from 3D printing. With an appropriate computer and software, models can be made using a very potent CNC Router, a precision milling machine, laser cutting machines and vinyl cutting and 3D printers. In addition, the lab has a set of machines and tools such as lathes, precision milling machines, grinding machines, a calender and various soldering processes.
Our best skills are the digital 3D modelling and the development of mechanical devices. The IPrinterG is a living example of these skills. It is a 3D printer machine completely developed and built in the FabLab environment and it was developed as a Fabacademy 2013 final coursework project. The IPrinterG has a reasonable precision and it is a very robust machine and it really helps our students and "makers" to produce their models at a very low cost.
FabLab Guarda shares its facilities with the School of Higher Education in Technology and Management which administers courses in Equipment Design and Computer Science; has various woodcutting and transformation machines, so that it can easily deal with projects of this nature. Computer Science students also use the resources of FabLab to carry out their projects, mainly with applications in the area of robotics.
We are beginning a process of connecting to all schools and levels of education in the surrounding area to offer them FabLab resources and to introduce the concept of "learn by doing" by reaching out to both young children and high school students. FabLab Guarda is located in the city of Guarda, in the interior of Portugal, very close to the Spanish border. The main objective of its sponsor, the Research Unit for Inland Development, is to contribute to the technological development of this region. Furthermore, we believe that the connection to the FabLab community in Portugal and at the international level can be a great help in developing projects and exploring new ideas, which can lead to business opportunities.
Links
Lab Capabilities
Impression 3D
Fraiseuses à commande numérique
Production de C.I.
Découpe/Gravure Laser
Fraiseuse de précision
Découpe Vinyle
Discuss this Lab on forum.fablabs.io