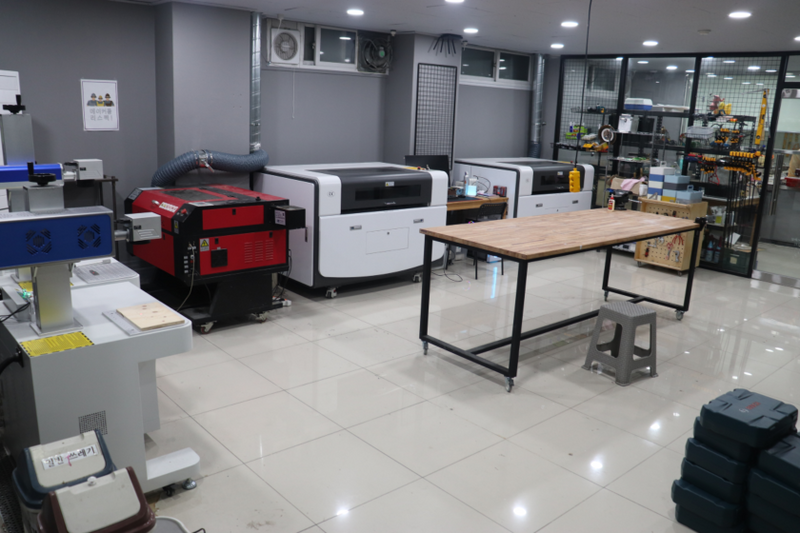 CO77IRI MAKER SPACE
https://www.fablabs.io/labs/co77iri
190 Mudeung-ro, Buk-gu, Gwangju, 61250, Korea (Republic of)
It's a space that makes your imagination a reality. To make something, we need equipment and a place.
'CO77IRI Maker Space' provides members with a variety of equipment and places.
It owns more than 100 kinds of equipment, including digital production equipment, woodworking, ironworking, glass crafts, welding, post-processing, and fabric.
We also offer safety training for the use of equipment and a maker workshop using digital fabrication devices.
Develops and carries out maker education that can be easily understood by men and women of all ages.
Using digital production devices, we spread the maker culture to the local community through maker education.
We develop and carry out education by combining education in many fields with education of makers by utilizing network of experts in various fields.
The activities include training using Arduino, silk screen using laser cutters, etc. combined with digital production devices.
It is an education where you can experience and make equipment such as digital production equipment, carpentry, etc. by visiting places that lack maker education such as farming, fishing villages, and islands.
There are many places in the area that do not have maker space built, so it is difficult to access making education, digital production devices, and other equipment.
To solve this problem, we are trying to bring various digital production devices to the truck for in-depth training and produce good results.
As you can see in the picture, we make and communicate with children who don't have access to Maker Space, and educate Maker culture and equipment easily.
Links
Lab Capabilities
3D-Drucken
CNC-Fräsen
Laserschneiden/-gravieren
Schneideplotten