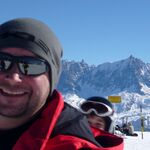 Tony Fish
Joined over 6 years ago.
Board Director with innovation and high growth experience cutting across mobile, web and digital.
Having founded, co-founded and sold a number of businesses over the past 25 years, I remain passionate about highly disruptive tech which is fast scaling and at an early stage. I have a style which is based on fast iteration, trust, deep involvement, clear decision making, robust financials, transparency and strong open governance controls.
In addition to speaking at over 200 events and conferences on innovation, entrepreneurship, digital trends and early stage growth, I have authored and published three books: "My Digital Footprint: a two sided business model where your privacy will be someone else's business" Nov 2009. "Mobile Web 2.0: the innovators guide to developing and marketing next generation wireless/mobile applications", August 2006; and "OpenGardens, the innovators guide to mobile data industry", December 2004.
Specialties: Strategy, high growth, early stage, innovation, business models, funding, structures, venture capital, term sheets, keynote speaker, digital trends, digital identity, trust, privacy, private, digital footprint, controls, governance, reputation, intention, personal data and creating value.
Works at: