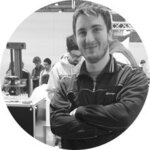 Marco Salatin
Joined about 8 years ago.
Bio
It mainly engaged in the construction of prototypes. I am currently engaged in the construction of a 3D printer DLP, which solidifies a resin with ultraviolet in order to obtain highly defined objects, in particular as regards the development of software. Are robotic ppassionato, it owns a small robot and manages a dedicated portal (www.roboticsportal.it).
I'm the founder of FabLab Conegliano (www.fablabconegliano.it) and a maker in FabLab Vittorio Veneto.
Links
Works at: