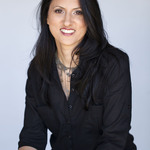 Revital Nadiv
Joined almost 10 years ago.
Bio
Design and Tech solutions | Where Fashion and Technology Meet

✔A multidisciplinary designer specializing in Innovative Advanced Technology in Fashion and Textile.
✔ Recently launched an innovative research of 3D printing on textile.
✔ A professional that constantly pursues new fabrication technologies and one that is also well versed in international commerce. An entrepreneur at heart!
✔ This unique and diverse experience - a fusion of innovative technology uses applied to my fashion designs - is evident in the products I develop from inception up to an end product, and it distinguishes my services from others.
✔ Look out for the workshops, conferences, hackathons and makeathons that I organize and facilitate where this matchless experience of combining technology & fashion comes into play.
▬▬▬▬▬▬▬▬▬▬▬▬▬▬▬▬▬▬▬▬▬▬▬▬▬▬▬▬▬▬▬▬▬▬▬▬▬▬▬▬▬▬▬▬▬▬▬▬
Professional background:
►Owner of Re-Vision Comprehensive Design Studio.
►Director at "Fablab" Israel – digital fabrication lab.
►Lecturer at the School of Design & Innovation and the College Of Management.
►Trainer & mentor at a variety of workshops on 3D printing, digital fabrication and laser cutting, all aimed at teaching students how to use the latest technology to innovate the Fashion and Textile industries.
►Founder of the Israeli "OLIVE" fashion company - a casual street-wear brand sold in designer boutiques worldwide.
▬▬▬▬▬▬▬▬▬▬▬▬▬▬▬▬▬▬▬▬▬▬▬▬▬▬▬▬▬▬▬▬▬▬▬▬▬▬▬▬▬▬▬▬▬▬▬▬
Educational Background:
►BA cum laude in Fashion Design from the WIZO Haifa Academy of Design and Education (1996), as well as a teaching certificate from the Ministry of Education.
►Awarded the internationally-known NISE award in fashion design.
Works at: