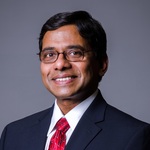 Rajesh Nair
Joined over 8 years ago.
Bio
Rajesh is a researcher at Massachusetts Institute of Technology, developing methods to catalyze innovators and entrepreneurs in communities from the ground up and build local entrepreneurship ecosystems. He believes that, with the right kind of exposure and training, average individuals can be transformed into entrepreneurs. His experiments in remote engineering colleges in India have generated several entrepreneurs and startups. He spoke at TEDx-BeaconStreet on his experience in 'Starting Up Entrepreneurs'
Rajesh is a Product Designer and a Serial Entrepreneur. His last company, Degree Controls Inc., (degreeC.com) serves companies in thermal design of high reliability electronic products in medical, IT, military and consumer markets. He developed several industry standard products and holds 13 US patents. He received the Entrepreneur of the Year award from New Hampshire High Tech Council and was a finalist at Ernst & Young EoY-New England program. He received Masters degrees in Engineering & Management (MIT), Manufacturing Engineering (UMass, Amherst) and Electronic Product Design (Indian Institute of Science, Bangalore). He founded the annual TechTop National Innovation Competition in India that has been running since 2006. He currently works at MIT-Tata Center for Technology and Design with a focus on commercializing technologies developed at the center.
His current personal mission is to create a thousand entrepreneurs in the next three years through the method he developed at MIT. He founded EnCube Labs, to address this mission through teaching the curriculum that changes entrepreneurship attitude of students with no past experience.
Works at: