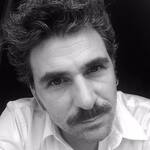 Pierluigi De Palo
Joined almost 8 years ago.
Bio
I'm a 39 year-old Italian man. I have been living in Paris for more than 10 years. During this period I developed the necessary technical skills to create, process and promote a range of visual products. Alternating work experience in the movie industry and collaboration with various structures of artistic creation, I focused my research on the relationship between analogue and digital formats, and the concept of time in static or moving images.
My main areas of expertise in this field are cinematography, photography and film-making.
Over the last years, I had my first contact with the Makers World, thanks to the OPENDOT FABLAB and at the time of writing, I'm attending the Fab Academy. The environment I found there was dynamic and collaborative, there were many science-fiction machines and numerous people with appropriate skills, that promised the physical and tangible realization of ideas. It was fantastic!
Thanks to this energy, my interest in photogrammetry, UAV applications and 3D modeling has been growing.
At present, I strongly believe that an open source revolution is underway.
Links
Works at:
Contributions