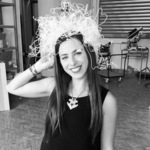 Michela Musto
Joined over 5 years ago.
Bio
Michela Musto is an artist, architect and designer. She had been working for the top tier firms of the world
of architecture, such as Foster+ Partners, GFC, Pica Ciamarra Associates and many more. Her involvement with the world of architecture come along a deep interest of computational sciences and rapid prototyping techniques. Her career as a fashion designer started after her studies at the Architectural Association School of London researching
over the relation between Fashion and morphogenetics. She had been teaching in Iran, UK and Italy and had
been creating her first collection for the Maker Faire 2014 in Rome. She carries out research that address the profound relationship between fashion, digital fabrication and morphogenesis. She designed and realised several collections, exhibited at Beijing Fashion Week in 2015 and the Maker Faire Rome from 2013 to today. She holds a great number of workshops, during which she explores the possibilities expressed by emergent systems and generative design processes. She tought in Iran, Romania, United Kingdom, Italy, France and United Arab Emirates. Her academic career is enhanced by publications (Cambridge Publishing, AD…), talks and lectures (La Sapienza, Emaar, IUAV, SUN, Federico II University Suor Orsola Benincasa…).
Links
Works at: