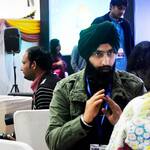 Mahavir Singh
Joined almost 8 years ago.
Bio
An architect and a BIM specialist, I graduated from one of the premier Indian colleges of Architecture- Chandigarh College of Architecture acing Design and appllied CAD courses and culminating it with an Award Winning National thesis coming second in Professional Category,2015
Have presented countless designs in future workplaces, housing, museums at various international and national levels and having won quite a few among them, my work and designs tend to generally understand the core needs of mankind and a place I find pleasure and leisure in.
Am also both a Fab Academy and Fabricademy(Undergoing) Diploma holder. Having represented Zios and Chandigarh in the year 2016 in Fab12 Shenzhen and 2017 in Fab13 Chile, I helped initiate the maker and fab movement for the city of Chandigarh and the peripheral cities of Mohali, Panchkula and New Chandigarh (Mullanpur) introducing India to its first Fablab in North India.
Am currently working towards initiating mini fablabs in Northern States of India like Panjab, Himachal Pradesh and Jammu and Kashmir.
Links
Works at: