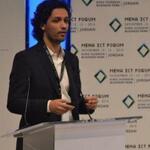 Loay Malahmeh
Joined almost 5 years ago.
Jordanian social entrepreneur, currently works as Head of Innovation at Luminus Education. Loay spearheaded the "fab lab" movement and ecosystem development in Jordan through his previous startup 3Dmena; which was acqui-hired by Luminus Group where he launched Jordan's first Fabrication Lab and manufacturing Incubator (Shamal Start / Fab Lab Irbid) with a portfolio of 100+ incubated startups. His experience spans over 10 years in various fields: social innovation, technology, digital fabrication and participated in raising over $15 million in funding for various projects.
He was also a Shaper at Global Shapers Community with the World Economic Forum and he has been internationally featured for his work in Wired Magazine, Popular Science, Upworthy, Newsweek, Techcrunch, Wamda/GE Makers, Upworthy, BBC and the World Economic Forum.
Works at: