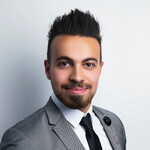 Karam Khrais
Joined 8 months ago.
Bio
A highly organized and efficient individual, whose thorough and precise approach to projects has yielded excellent results. Self-motivated person and a team worker. I have the ability to link between the theoretical side and practical side properly.
As a Mobile FabLab Engineer at FabLab Irbid, have the ability in Digital Fabrication world; 3D Design, Additive & Subtractive Manufacturing (3D Printing & CNC), Electronics Design, Production and Programming.
Links
Works at: