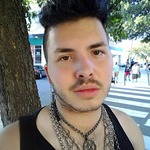 João Martins
Joined over 4 years ago.
Bio
Visual Arts and Tecnologies degree student with both art and cuisine backgrounds.
target areas: Sculpture and collage illustration/drawings and some product design due to its tangibility. Which a thing that I love, exploring the essence, shape, texture and all the material as to say.
Also photography, painting and cooking due to the visual component.
Works at:
Activity
João Martins was added as Voluntary Student Monitor at FabLab Benfica
over 4 years ago