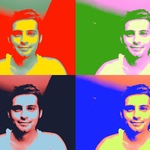 Giedrius Kavaliauskas
Joined over 7 years ago.
Bio
Project lead/facilitator but sometimes do more paperwork than making.
I represent local (Lithuanian) association of makerspaces/hackerspaces/fab-labs (executive director) as well am a co-creator and producer of Vilnius Mini Maker Faire.
Also I'm one of the co-founders of mobile mini fab lab "M-LAB" project and Fab Lab Vilnius.
Links
Works at:
Contributions