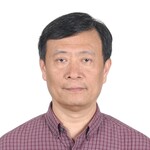 Ferrie Hu
Joined about 7 years ago.
Bio
Prof. Ferrie Hu Tiejun, graduated from the Sun Yatsen University (GuangZhou) in Physics, specializes in computer and communication system design and global data network management, over 30 years of experience in computer center, telecommunication networking and Internet industry. He was focusing his work on telecommunication network planning and policy development during the last 10 years and has obtained the Technology Award from the China National Science Committee and Guangdong Province Science Committee.
Prof. Hu has worked for the Department of Computer Science and the Computer Center of the Sun Yatsen University (GuangZhou) for 10 years with scope of work in research on Computer system, Networking, Information management and Internet technology, and Computer Application and Research & Development Center Management.
Before joining China Motion Telecom Group in 1993, Mr. Hu has worked as a member for US company's consultant group – Digital Equipment Co. and DEC Asia Technical Consultant Group; he has worked as the Chief Technical Consultant of the Guangzhou Jockey Club in meantime.
Works at: