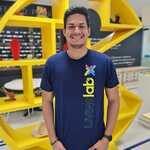 Caio Augusto Areco Roa
Joined almost 2 years ago.
Bio
Bacharel em Administração pela Universidade Federal de Mato Grosso do Sul. Desenvolveu atividades nas áreas de Políticas Públicas, Competitividade Empresarial e Articulação/ Gestão Estratégica no Sebrae/MS. Atualmente é Community Leader do Living Lab MS, laboratório de inovação do Sebrae/MS, organizador de eventos, social midia e atua ativamente na comunidade de startups, maker, games do Estado de Mato Grosso do Sul.
É uma pessoa que gosta de ter um bom relacionamento com clientes e amigos. Além disso, almeja por novos desafios para sair da zona de conforto e preza sempre por uma boa comunicação e organização no ambiente de trabalho. Apaixonado por esportes, está sempre em busca de alguma atividade física diferente.
Tem expertise na elaboração de termos jurídicos; estruturação de metodologia de programa de aceleração de Startups e Negócios Sociais. Ademais, tem experiência na realização de mentorias, talks, validação de ideias em prol do crescimento rápido e saudável de uma Startup. Tem atuado também no Projeto LabMaker, no Living Lab MS, com métodos ágeis, marketing de mídias sociais e na ativação da comunidade maker do Estado de Mato Grosso do Sul.
_______________________________________________________________________________________________________
Bachelor's degree in Administration from the Federal University of Mato Grosso do Sul. Developed activities in the areas of Public Policy, Business Competitiveness and Articulation / Strategic Management at Sebrae/MS. He is currently Community Leader of Living Lab MS, innovation lab of Sebrae/MS, event organizer, social media and actively works in the community of startups, maker, games in the state of Mato Grosso do Sul.
He likes to have a good relationship with clients and friends. Besides, he longs for new challenges to get out of the comfort zone and always appreciates good communication and organization in the work environment. Passionate about sports, he is always in search of some different physical activity.
He has expertise in drafting legal terms; structuring the methodology of acceleration programs for Startups and Social Businesses. Moreover, he has experience in conducting mentoring, talks, and validation of ideas for the rapid and healthy growth of a startup. She has also worked on the LabMaker Project, on Living Lab MS, with agile methods, social media marketing and activating the maker community in the State of Mato Grosso do Sul.
Links
Works at: