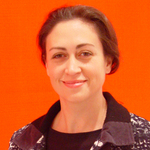 Asuncion Lozano Salmerón
Joined over 4 years ago.
Bio
Born in Granada in 1967. Degree in Fine Arts at the University of Granada in 1991 and Doctor of Fine Arts at the University of Granada in 1995. She has been a lecturer in painting at the Fine Arts Faculty of the University of Granada since 1995, having previously worked at the University of Vigo from 1993 to 1995. Her teaching work has developed alongside her work as a visual artist.
Her multidisciplinary work covers painting, sculpture, installations, photography and video. Methodical and very interested in classification systems, she has organised her work in series and differentiated groups of works which have arisen during her career. Her area of research explores topics such as the Body, Territory and Nature. In each of them she sets out to achieve objectives such as: to go beyond the representative realm of painting towards an expanded field of sculpture; to warn about the untamed dimension of nature; to reconstruct the meaning of territory through the manipulation of aerial images taken from Google Earth; to analyse how individuals inhabit social urban space; to warn about the use of everyday language and to condemn how stereotypes fix feminine imaginaries, reclaiming diversity as the ideal state for the Human being, and participating in the diffusion of different expressions of gender, etc.
Since 1993 she has held more than fifteen individual exhibitions and has participated in about a hundred collective events. Her first individual showing was in 1992 (Feria de Muestras, Palacio de los Condes de Gabia, Granada). In 1993 she was awarded an artistic creation grant for the European program Art- Exchange in Krakow. In 1997 she received a secondary award in the XIII L'Oréal Painting Prize, as well as successive national prizes and honours. Among her exhibitions, we could highlight Arquitecturas de papel (1998-1999) at the Sala Rekalde de la Diputación Foral de Vizcaya, Vigías (2009) in the MECA Mediterráneo Centro Artístico de Almería Idéntica, similar, parecida, igual (2011) at the Centro Damián Bayón de Granada, or Todos, ninguno, at the Archivo Histórico Provincial de Jaén; 20 razones y 2 mentiras (2012) by Asunción Lozano/Águeda Peregrina at the TRN Laboratorio Artístico Transfronterizo, La casa de la Palmera, Granada; she has also held exhibitions at the Sala Centro of the University of Jaén with 137 pasos y uno más; or 30 times and 31 places at the Nowohuckie Centrum Kultury in Krakow. She has also participated in collective exhibitions such as Mundos Propios. Perspectivas y Variaciones en la Fotografía Andaluza de hoy (2012), at the Fundación Valentín de Madariaga, Sevilla. Territorio Sur (2014), Ars Visibilis III. Arte Contemporáneo de Mujeres Artistas (2016), Mar Oceano/Oceanum Mare (2016), at the Casa Pinillos del Museo de Cádiz; Acordes III (2016), or El arte es el modelo. Colección de Arte Contemporáneo de la Universidad de Granada (2016). One Clover, and a Bee and Revery (2016) in Happylucky no.1 Gallery in New York.
Her work forms part of collections such as the L´Oreal Collection, Spain, Fundación Provincial de Artes Plásticas Rafael Botí (Córdoba), Galerii Centrum, Nowohuckie Centrum Kultury, Kraków. as well as in collections at the Junta de Andalucía, Ayuntamiento de Vitoria, Museo de Navarra and University of Granada and the University of Jaén.
Links
Works at: