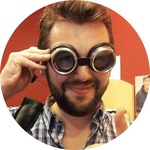 Andrea Cattabriga
Joined almost 10 years ago.
Bio
President at Mak-Er Emilia-Romagna digital manufacturing network.
Running Makers Modena Fab Lab, owned and partnered by the Municipality of Modena and managed by Slowd for Democenter-Sipe Foundation.
I'm also Co-founder and CEO at Slowd, engaged in research on product design innovation and distributed supply chain systems, trying to connect creativity to the knowledge of manufacturing , promoting the openness of projects and the collaborative processes in local networks, connecting makers, artisans, designers, companies and institutions.
I love to speak about design, supply chain and collaborative economy, open innovation, innovative business models for creativity and crafts; I've also curated events on innovation and digital fabrication.
On charge as member of the Committee on Service Design at ADI (Italian Industrial Design Association, research partner of the Faculty of Economics Marco Biagi, University of Modena-Reggio Emilia, project manager and senior technology transfer at Fondazione Democenter-Sipe (Modena) with a focus on the development of local innovation framework between schools, makers and enterprises.
I'm currently working on the setup of Fab Lab Terre di Castelli in Spilamberto (MO) and leading the collaborative road map to a new public fab lab in Modena (Italy)
I teach at Nuova Accademia Belle Arti in Milan, B.A. in Product Designers, how to hack the market and build an independent future for tomorrow's professionals (Marketing and management class).
Links
Works at: