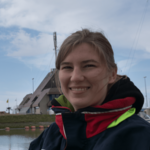 Amy Beaulisch
Joined over 8 years ago.
Bio
Hi there!
My name is Amy Beaulisch and I've been active over the past years within the FabLab world.
For me it all started in 2011 in FabLab Vestmannaeyjar. During my exchange year in Iceland, my host parents introduced me to the local lab and I ended up following the FabAcademy in early 2013.
Since then I've learned a lot. I started working as a jobstudent in the FabLab in Leuven and studied Industrial Product design while doing that.
Because Leuven is quite far away from where I live, I found some equal minded people in the city of Brugge and started the eco-fab-lab. After some changement in location, we found our stable home with the youth department of the city of Brugge.
In the mean time I also needed to do an internship and for that I chose the Ingegno makerspace/De Creatieve STEM in Drongen, close to Ghent. There we worked on my skils of teaching children and training the trainers.
After my studies I went for 6 months to Paraguay to volunteer at the Benjamin Franklin Science Corner (BFSC). The BFSC is a local makerspace in the hart of Asuncion, Paraguay.
After those 6 months abroad my former internship, Ingegno/De Creatieve STEM, offered me a job in their lab.
Works at: