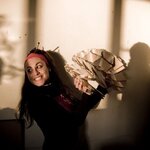 ILARIA LA MANNA
Joined over 9 years ago.
Bio
I am a focused, talented and enthusiastic architect graduated in the 2010 with a Masters Degree in Advanced Architecture from the IAAC (Institute of Advanced Architecture of Catalunya), which focuses on a multi-scalar system, based on territorial, architectural and parametrical design operations for the production of Self-Sufficient Habitats.
I graduated in Rome, Italy in 2007 and have since had work experience in different cities: Rome,Stuttgart, New York, Barcelona and Maracaibo. I am interested in learning more about how architects think and design in different countries all over the world. Having worked abroad has given me the chance to learn in different international work environments, which has enriched my experience as an architect.
Currently in Buenos Aires, focus in experimental research , rapid prototyping and teaching digital fabrication. After the exprience in the fab lab Barcelona 2010, I continued my investigation and now I am co founder of FAB LAB ARGENTINA.
Contributions