EagleTecCNC
Wood Lathe CNC Machine
This wood lathe machine is single rotary axis with 4.0kw (5.4HP) servo turning motor, two pieces wood turning tools, adjustable gymbal & spindle;
Application Industry
wood cnc lathe is good for making custom table legs, stair balusters, wooden handrail, stair railing and more.
Materials Good For
It can turn all types of wood from square or round.
Machining Capacity
Wood-turning, cutting, broaching, and 3 axis relief engraving.
Technical Parameter of Benchtop CNC Wood Lathe Machines
Model No. EA-TL1530T3
Lathe Type CNC Lathe for Wood
Control Mode 3-Axis CNC controlled
Construction One rotary, two chisels, adjustable gymbal & electric spindle
Electric Spindle for Broaching 3.5kw (4.7HP), air cooled, ER25 collet, variable rate 0 ~ 18000 RPM
Headstock Driving Motor AC servo motor, 4.0kw (5.36HP)
Rotary Feeding Range Variable from 0~3000 RPM
Max. Simultaneous Axis Quantity Three (3 axis)
Machining Capacity Turning, broaching, turn-broaching, embossment carving on column
Lathe Controller Richauto DSP A132 (3 axis controller), read DXF file directly, USB interface
Communication Code DXF, G code
XYZ Motion Motor Stepper
Driver YAKO YKA2811MA – 3PCS
Y-Axis Feed Speed 47"/min (1,200mm/min)
X Z Feeding Speed 19.6"/min (500mm/min)
Wood Turning Blank Diameter Range 20mm ~ 300mm (From 0.78" to 11.81")
Wood Turning Blank Length Range 100 ~ 1500mm (From 3.94" to 59")
Tail Stock Air actuated tailstock
Air Pressure Requirement 0.6~0.8 Mpa
Inverter 2 PCS
Working Volts AC380V, 3Ph 4 Wires / AC220V, 3Phase (make to order)
Electric Frequency Requirement 50Hz (60Hz make to order)
Net Weight 1400KGS
Lathe Foot Print 153"L x 39"W x 68"H (3900L x 1000W x 1750H)
Packing Dimension 3150x1220x1680mm (6.46CBM)
Packing Way Plywood Case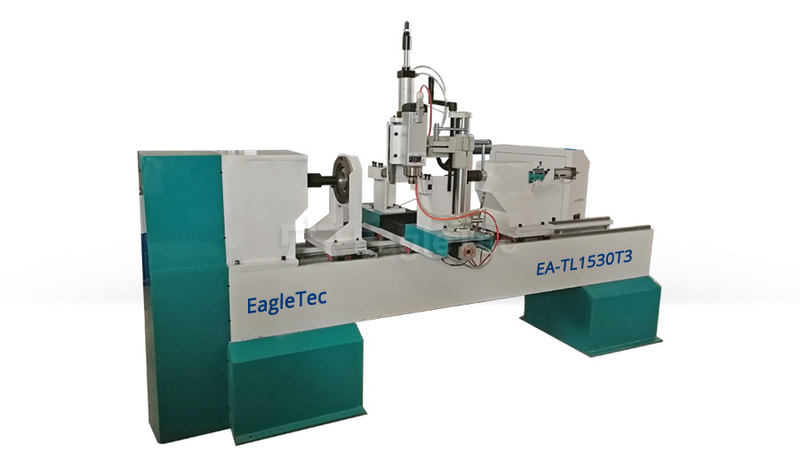 Tags
Useful Links
Machine Revisions
Wood Lathe CNC Machine
Available at