Other Machine Co
Open-air Shakers (Advanced)
Performance
Microprocessor PID control maintaining constant speed
Competitive high shaking speed up to 500 rpm.
Orbital shaking motion in various diameter.
- 19mm for SKC-6075/7075
- 25mm for SKC-6100/7100
- 50mm for SKC-6200/7200
Wide speed range even with heavy workload.
- Ideal DD(Direct Drive) Brushless Motor and triple cam system support heavy load, quiet, maintenance free operation and deliver high torque at high speeds and smooth rotation.
Best effort run function intelligently manages its rpm to keep shaking even workload is out of its capacity.
- Automatic shaking speed adjustment in case of excessive workload such as unbalanced load placement, unusual vibrations caused from unstable floor or external shock.
Pleasant test environment by the smooth acceleration and deceleration control.
- Smooth start and smooth stop function prevent chemical spills from flasks or test tubes.
Exceptional low-profile design (only 12cm from bottom to platform) minimizes vibration or sliding caused by the high speed shaking motion.
Convenience
User friendly control panel.
- Lab Companion's unique VFD-bright, clear, easy to read.
- Durable membrane touch switch and control knob.
Easy-exchangeable slide type universal platform reduces physical fatigue when handling the heavy load samples. (optional)
Repetitive task can be easily performed as the platform stops where it starts.
- Stopping the shaking platform always at the same position is highly beneficial for automated dosing or sampling process.
Variety of accessories are available to meet application demands.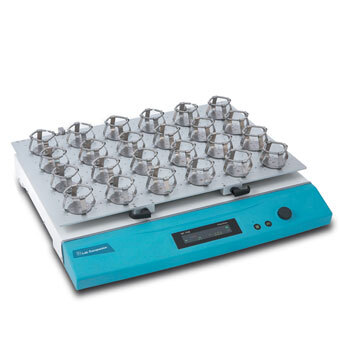 Tags
Useful Links
Machine Revisions
Open-air Shakers (Advanced)
Available at
Discuss this Machine on forum.fablabs.io