DFKit
DF-Scan
DFKit DF-Scan is a professional 3D scanner that has a 360 degrees rotation. This machine uses the technology of optical triangulation with phase displacement. The 3D scanner is used for reverse engineering, quality control and digitisation of art works. Time needed for scanning is about 4 and half minutes. 3D scanner is installed into the protective cap with the use of a turn table that allows it to have a 360-deg coverage.
Technical specifications
Scanning method Optical triangulation
Camera 12 MP
Diameter of a turn table 33 sm
Illumination type LED spotlight 30W
Minimal set weight 45 kg
Max size of a scanned cubical object (max size of a cylinder) 233х233х400 mm, (for a cylinder diameter 300mm, height 330mm)
Overall weight 80 kg
Power consumption 200 W
Overall dimensions 70х73х70 sm
Minimum system requirements Windows, Linux
Methodological materials In the kit
Full package consists of:
● Camera 12 MP
● Software
● LED 30 Watt
● Camera holder kit
Additional qualities:
● Protective cap. Made from metal and tempered glass. The doors open from both sides, lock with keys. On the cap there are folding handles for comfortable installation and removal.
● Pedestal for machine placement, documentation storing, equipment, tools. It is equipped with heavy-duty rollers, parking legs, shelves are installed inside. Locks with keys.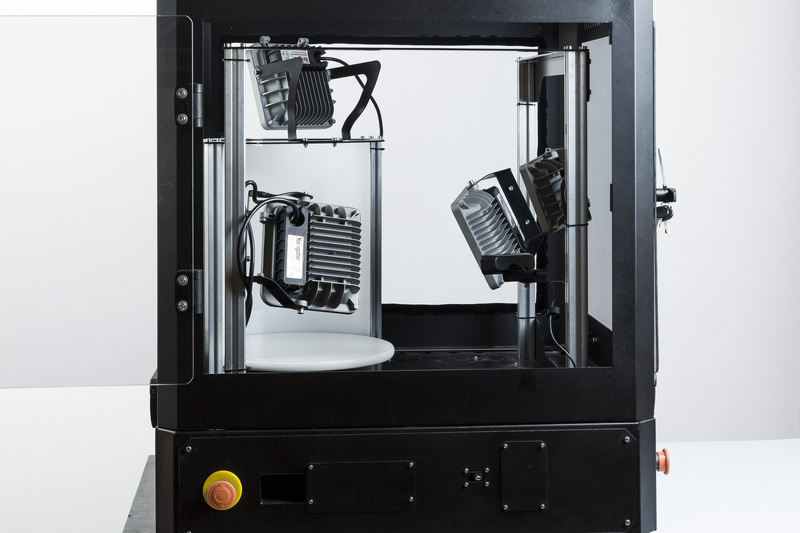 Tags
Useful Links
Machine Revisions
DF-Scan
Available at
Discuss this Machine on forum.fablabs.io