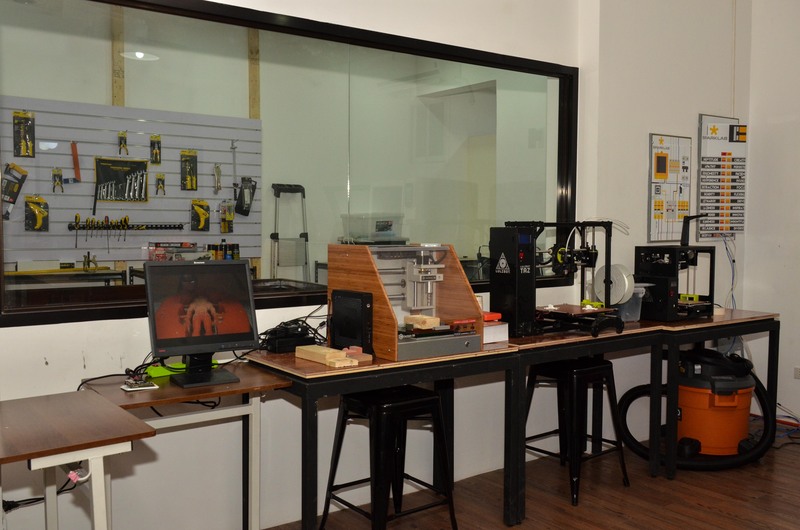 SparkLab
https://www.fablabs.io/labs/sparklab
118 Matahimik Street, Teachers' Village, Diliman, Quezon City, National Capital Region, 1101, Philippines
SparkLab is a commercial makerspace in the heart of Quezon City, Philippines that houses a 3D printer, a laser cutter, a wide format digital printer, a vinyl cutter, a PCB mill, and a CNC router.
It was founded in 2016 and launched in December of the same year. As part of its grand launch, entitled LIFTOFF, SparkLab hosted the best and brightest minds around the country, including maker prodigy Angelo Casimiro, DOST-PCIEERD Director Carlos Primo David, and Felta Chairman Mylene Abiva. SparkLab also hosted talks by artists, sculptors, and creative innovators.
SparkLab is a partnership between Norde International Distributors, a digital printing company, and Thinklab, an engineering consultancy firm. Thinklab engineers, who hold office within the makerspace, specialize in microcontrollers, robotics, and electronics and communications engineering.
Aside from being a makerspace, SparkLab is also a co-working hub, inviting freelancers, designers, and startup entrepreneurs to make it their home. Within this 800-square-meter facility, creative minds can collaborate and trade ideas, creating an atmosphere of innovation and cooperation. SparkLab also hosts weekly workshops and classes, as well as meetups, mixer nights, and conferences to help the startup community within the country grow and prosper.
Links
Lab Capabilities
3D printing
CNC-Milling
Circuit production
Laser
Precision milling
Vinyl cutting
Discuss this Lab on forum.fablabs.io