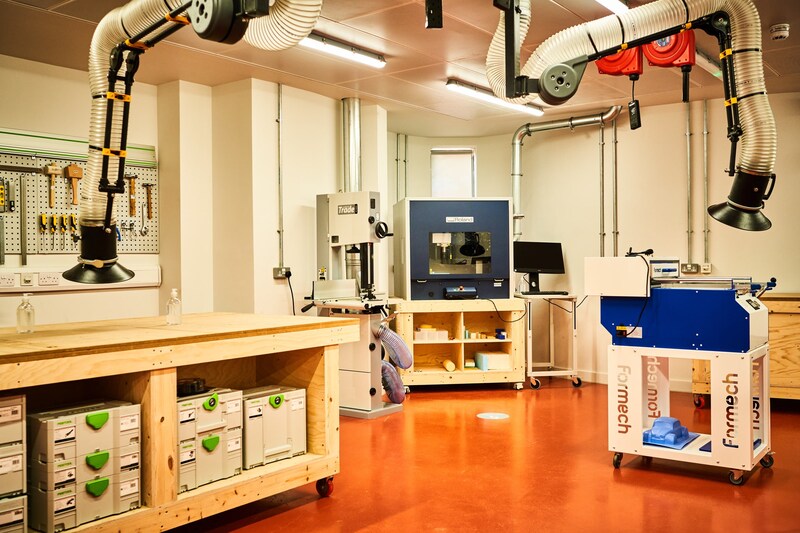 PlusX Brighton Fablab
https://www.fablabs.io/labs/plusxspace
Brighton, Lewes Road Brighton, Brighton, East Sussex, BN2 4GL, United Kingdom of Great Britain and Northern Ireland
The Plus X Innovation Hub is a unique space co-working space for creatives where ideas meet and paths cross. We cultivate innovation, creativity and growth whilst also supporting the community and having a positive social impact. Unlike most co-working spaces, Plus X is unique since we have our very own Workshop were designers, engineers, architects, makers and more can come in and use our specialist equipment and facilities from our SLS 3D printers to our 5 axis CNC milling machine. We have everything you need to take your idea from sketch to prototype; ready to show your target audience, investors, and people of interest.
Our current machinery includes:
- Roland GS-24 Vinyl Cutter
- Roland monoFab SRM-20 CNC Miling Machine
- Roland Modela MDX-540 Miling Machine
- Formlabs Form 3 Resin 3D Printers
- Prusa i3 MK3s FDM 3D Printer
- Trotec Q500 Laser Cutter
- Trotec Speedy 300 Laser Cutter
We also have the facilities for circuit board design and creating electronic parts. Our Fab Lab is also fully equipped with the essential PPE required to use our hand tools and machinery.
Links
Lab Capabilities
3D printing
CNC-Milling
Circuit production
Laser
Precision milling
Vinyl cutting