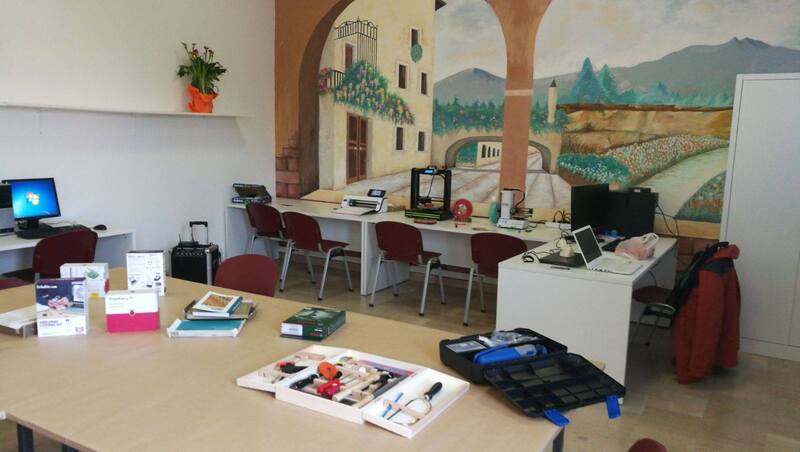 PALUSLAB3D
https://www.fablabs.io/labs/paluslab3d
Via della Liberta', Istituto Comprensivo "Giovanni Verga" - Scuola Secondaria di Primo Grado, Pontinia, ITALY/LATINA/LAZIO, 04014, Italy
Born inside Lower Secondary School "Giovanni Verga" in Pontinia, PalusLab3D is a highly flexible modular space where you can develop planning/coding skills with the appeal of "making". The Lab represents a place devoted to digital fabrication inside the school premises, which makes it possible for it to be used both by students and citizens of Pontinia also after curricular hours.
Its main aim is that of creating an accessible online cooperative community by means of which students, teachers and educators develop innovative solutions to promote and enhance the local territory, its artistic, historical, archeological, environmental legacy and the landscape. Such type of projects are badly needed in our area.
PalusLab3D can really create digital, innovative products and processes, promote and enhance the local cultural heritage through the joined work of students, teachers and the collaboration of public bodies and private citizens. 3D printers, drones, mills and laser cutting, robotics and Arduino will be indispensable tools for a true problem solving approach and will be used to boost curricular subjects learning, in order to stimulate a positive relationship between the students and their territory.
Having the chance to allow access to the laboratory independently from the school, there is the possibility of realising a digital creative centre for the whole local community.
The space for the creation of our lab has been found in a room on the first floor of Lower Secondary school I. C. "Giovanni Verga" with a useful floor surface of about 100 square metres, together with an adjacent room of 30 square metres and the relating space in front of the two classrooms. The entire school is provided with wi-fi and LAN-WAN Internet connection, and all the devices and systems work according current safety rules and norms.
The laboratory will have a multi-disciplinary specialisation but with particular attention dedicated to the most relevant sectors in our province, such as agriculture and seaside tourism.
The machinery and equipments required will allow the creation of innovative prototypes and the teaching of necessary know-how to the students, through practical activities related to the use of digital machines; the list of needed technology will be periodically revised and updated according to the school's money and the support by our local business fabric through sponsorship and/or funding.
The devices in the laboratory are the following:
PC workstation for 3D modelling
n. 2 3D printers closed in Box
3D Sense hand Scanner
CO2 Laser cut , minimum area A3, minimum cut 4mm of plexy/multilayer, suction and compressor included
Circuit boards, Arduino e Raspberry type, starter kit included
Robot kits, drones to be created with a workshop formula
Compact DC power supply
Videoconference station with projector and IWB or interactive screen
Electronic material, such as resistances, Led, motors and servo motors, etc...
Links
Lab Capabilities
3D printing
Circuit production
Vinyl cutting
Discuss this Lab on forum.fablabs.io