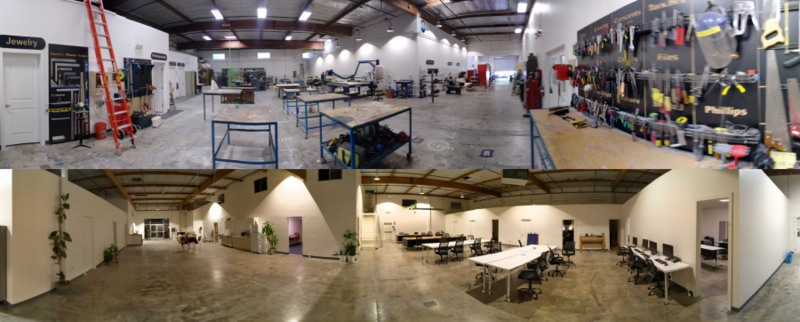 Hacker Lab
https://www.fablabs.io/labs/hackerlab
2533 R St, Suite 122, Sacramento, California, 95816, United States of America
Hacker Lab's mission is to empower Innovators by curating the community-provided know-how, physical tools, and the relationships they need to think big and realize their dreams.
Hacker Lab fulfills its mission using a three-part approach. We have discovered that we can have the most impact on our community by developing education programs, participating in regional economic development, and partnering with key innovation ecosystem stakeholders that help us execute our mission.
In developing education, we curate a community of teachers and learners. Our instructors teach classes on a wide variety of subjects such as software and software development (e.g. web design, app development), business skills (e.g. design thinking, lean startup), and technical knowledge (e.g., electronics, digital fabrication). Some of our classes have led to full-on curriculum development that take the form of 'bootcamps.' Some examples are iOS Development, IoT development, and electronics basics.
Hacker Lab contributes to economic development by leading Startup Hustle. Startup Hustle's aim is to grow local entrepreneurs by teaching them Lean Startup basics and helping them to put the methodology into practice. It's an immersive, 8-week bootcamp that walks entrepreneurs through problem discovery, customer discovery, customer validation, and communications.
We also enjoy a unique public / private partnership with Sierra College, a local community college. Our partnership aims to inspire innovation by collaborating to build a community innovation center where members have access to Science, Technology, Engineering, Art & Math education, technology, and resources to support entrepreneurship.
Many of our members leverage Hacker Lab to launch their own small businesses. We offer private offices for lease and advanced manufacturing tools that allow them to produce inventory in small batches. Some members take their new skills to the next level by securing a job or by joining other incubation programs in Sacramento.
We partner with local chambers of commerce and economic development organizations so that we can help our members launch or plug-in to industry, and we provide promotional assistance to our members when needed.
For specific case studies, please see our attached reference guide.
Links
Lab Capabilities
3D printing
CNC-Milling
Circuit production
Laser
Precision milling
Vinyl cutting
Machines
Discuss this Lab on forum.fablabs.io