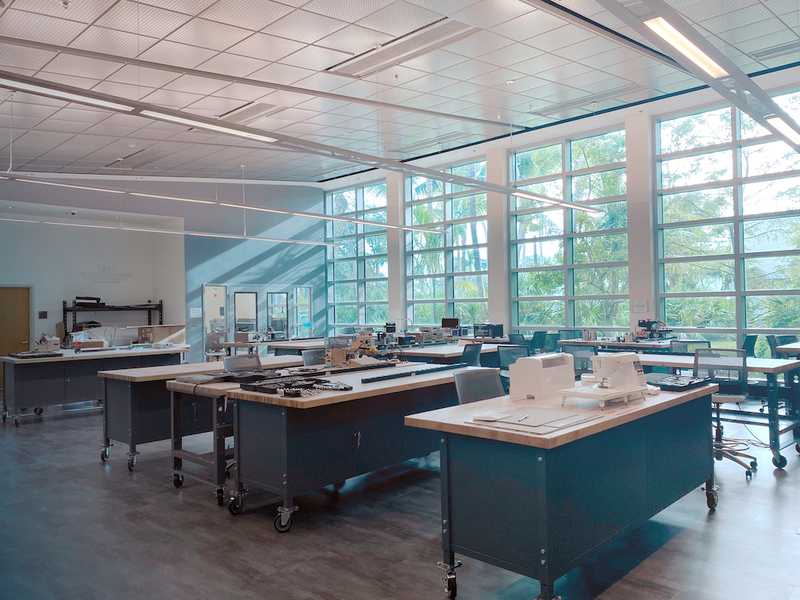 FAU College of Engineering and Computer Science Fab Lab
https://www.fablabs.io/labs/faucoecsfl
777 Glades Rd, EE96-101, Boca Raton, Florida, 33431, United States of America
Lab Details
Lab tags:
Test Lab Tag: The first tag - used for testing
The FAU College of Engineering and Computer Science Fab Lab was formed to help students and the community bring their ideas to life. We have 6 computer system capable of creating complex 3D design and virtual reality projects. The Fab Lab will offer both fused deposition 3d printers as well as low force stereolithography printers. We have a large format laser cutter and a high precision, 4 axis milling machine capable machining metal, but also precise enough to cut printed circuit boards. Electronic repair and testing can be accomplished on our 4 electronics stations and we have the ability to automate PCB assemblies with the Manncorp pick and place system. We have a computerized sewing/quilting machine for wearables as well as a vinyl printer/cutter and heat press. Multiple small desktop material working machines, as well as, manual and powered hand tools round out our lab to assist in fabrication and assembly of the projects on our (6) 8' open workbenches.
Links
Lab Capabilities
Impressão 3D
Usinagem CNC
Produção de circuitos
Corte Laser/Gravação
Usinagem de precisão
Para quem é voltado o fablabs.io?