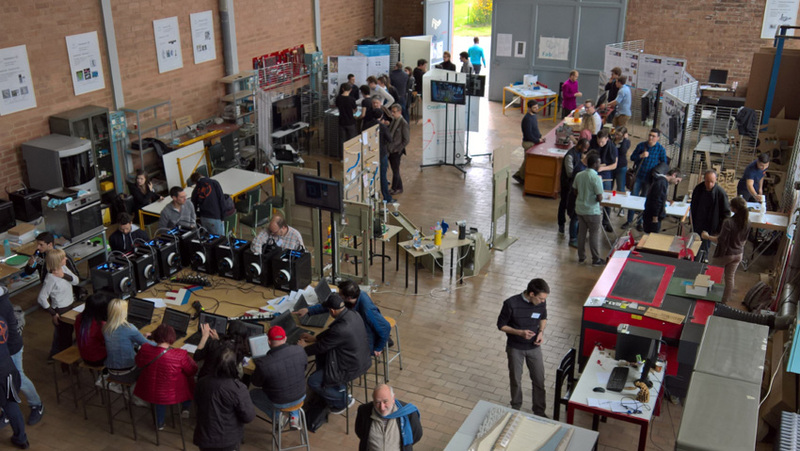 FabLab Mons
https://www.fablabs.io/labs/fablabmons
Rue du Joncquois 53, Mons, 7000, Belgium
The FabLab Mons has been created in May 2014 by a group of institutions and non-profit associations, namely the University of Mons, the high schools ARTS² and HEH, Transcultures (Interdisciplinary Centre for Digital and Sound Cultures), TechnoCité (ICT & Digital Media Knowledge Center) and Maison du Design (Specialised Center for Design Entrepreneurs).
Since then, new partners have joined the group: Creative Valley (creative hub for the community of cities around Mons and La Louvière) and the city of Mons. Some others plan to join.
The main goal of the association is to cooperate in promoting digital fabrication and innovation for the benefit of the local community. In order to do so, the FabLab has ambitious projects and it is open for students, trainees, job seekers, professionals, entrepreneurs, professors, researchers as well as for everyone who wants to learn, to fabricate or to create with others. The FabLab is open for the public every Monday and Wednesday.
The University and the high schools practice projects based learning and the FabLab welcomes them as far as the deliverable is a prototype or a proof-of-concept. Some of these projects deal with open source hardware (OSH) and some others are fun projects as robots for example.
At the same time, the FabLab is open for the projects, events and workshops organized by its partners or by others.
The FabLab is in touch with elementary and secondary schools to disseminate maker-centered learning experiences.
Through the Creative Valley Hub, the FabLab Mons participates to an ambitious redevelopment program driven by Creative Wallonia. This program associates citizens, students, enterprises, universities and research centers through a bottom up approach to put creativity and the CCIs (creative and cultural industries) as the heart of economic renewal of the region.
Links
Lab Capabilities
Impressão 3D
Usinagem CNC
Corte Laser/Gravação
Usinagem de precisão
Para quem é voltado o fablabs.io?
Machines
Discuss this Lab on forum.fablabs.io