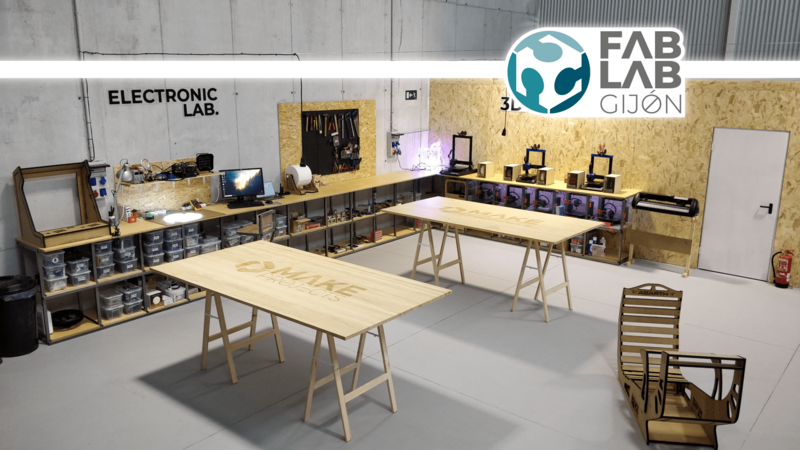 Fablab Gijón
https://www.fablabs.io/labs/fablabgijon
Calle de Benjamín Franklin, 415, 3, Gijón, Principality of Asturias , 33211 , Spain
The first thing you see when enter our lab is a really nice and bright open space to work freely, aroung 200 square meters. Our lab is well connected to the city, a few minutes ride by car or bus. There are 4 wooden tables placed in strategic places, but they can be moved easily depending on the project.
Our lab is divided in different stages:
Fisrt we have the design laboratory,equiped with all the necesary software to créate and conceptualice both in vector and 3D.
Then we enter the electronic laboratory, filled with all the components you may need, as well as the machinery and soldering equiment.
Next to the electronic stage, there are a nice working area with a filled tool panel.
Right next, we have the 3dprinting farm: 5 Prusas MK3S, 3 Artillery and 2 Makerbot Replicator Dual, always ready to print in on any material. Behind this farm we find a zone prepared for sanding, painting and molds.
One of the lat stages is the CNC corner whit our 1600x1000mm laser cutting machine, capable of engraving at 800 speed and cutting aprox 20mm thick. The last one is the work in progress/assembly corner, where we provide the space and the tools to work comfortably.
The idea is to cover all the creative process from the idea to the final manufacturing, asesoring throughout the process
More info: https://www.fablabgijon.es/#more
Links
Lab Capabilities
Impressão 3D
Usinagem CNC
Produção de circuitos
Corte Laser/Gravação
Usinagem de precisão
Para quem é voltado o fablabs.io?
Machines