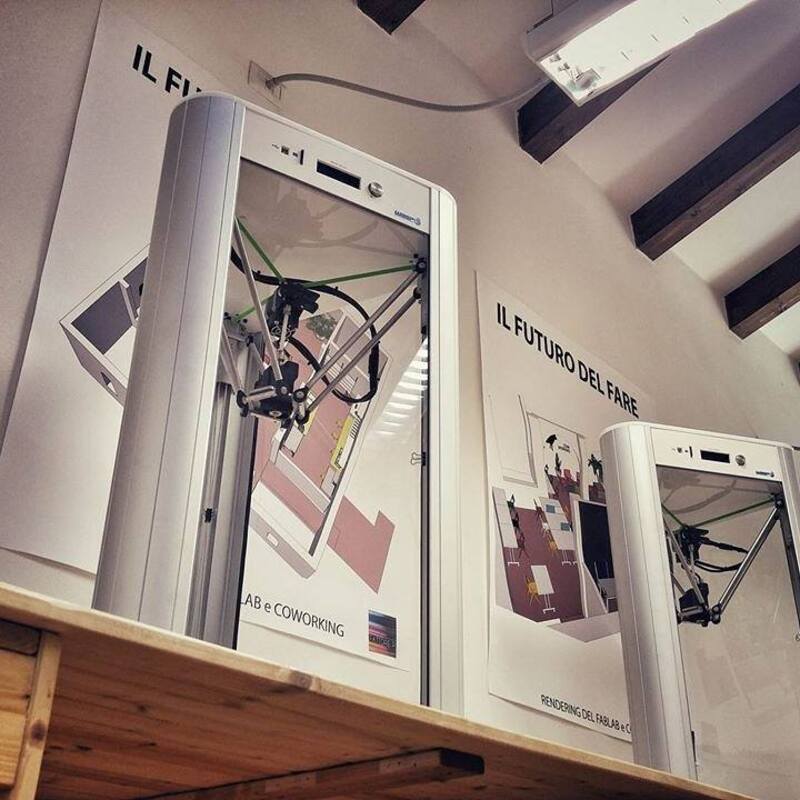 FabLab di Casa Corsini
https://www.fablabs.io/labs/fablabdicasacorsini
Via Statale 83, Spezzano, Fiorano Modenese, Modena, 41042, Italy
The Fab Lab of Casa Corsini has been developed to facilitate the development of inventions, giving access to digital construction tools. It is a place where people can meet, confront competences and share knowledge.
The Fab Lab is equipped with:
• 2 DELTAWASP 2040 3D PRINTERS
This Delta type printer boasts a 20 ø built plate and can print objects as high as 40 cm with resolution up to 50 microns. It is a versatile printer that can cope with a whole range of materials from PLA to ABS, nylon, polymers and Laywood.
• STEPCRAFT 600 MILLING CUTTER
The STEPCRAFT S600SF machine is the middle sized machine with a travel of 600mm x 210mm. The S600SF Desktop CNC system can be configured as a 3D printer, Foam cutter, Vinyl cutter and milling cutter.
• WORKLINE LASER CUTTER
High performance laser engraving machine, suitable for both engraving and cutting jobs, engraves any organic and plastic material except metal.
Great versatility and speed of use, it allows the customization or creation of many articles in a few minutes.
Some examples: Stamps, Woodwork, Plexiglas displays, Glass engraving, Marble, Leatherwork, Promotional items (pens, pencils, spoons, key rings, etc.), Plates and Medals, etc.
• POETRY INFINITY IRA 3D PRINTER
Print speeds that can reach 400mm per second, head speeds up to 1100mm per second and resolution up to 15 micron for this 3D printer.
It is characterized by a mechanical system that uses 8mm axes and a mixed system of bearings and bushes, for handling the extruder unit, which improves print finishing. The printer is also equipped with a double metal extruder, operating up to 330 ° C, for printing complex objects that may require the use of soluble supports that can simply be removed with a water bath. The nozzles of the extruder unit are interchangeable, with the possibility of using 0.25mm, 0.4mm and 0.8mm diameters for rapid prototyping applications as well as production. The ceramic plate, which can be heated up to 110 ° C, features objects of a total size of 250x250x300mm.
• DUPLICATOR7 WANHAO
A high intensity light source lightly cures a photosensitive resin. The high resolution of the 7" UHD LCD panel gives you a wealth of details and a construction precision so far only found in industrial printers. This architecture, besides being extremely precise, is also very fast, with a maximum resolution of 25 μM it is possible to build over one centimeter in Z per hour. The resins used are extremely durable, the pieces produced are very robust and even resistant to heat.
• 3D SCANNER
• OSCILLOSCOPE RIGOL
• DRILL PRESS
• SOLDERING IRON
• ARDUINO KIT, etc.
Links
Lab Capabilities
3D printen
CNC frezen
Printplaat productie
Laser Snijden/Graveren
Discuss this Lab on forum.fablabs.io