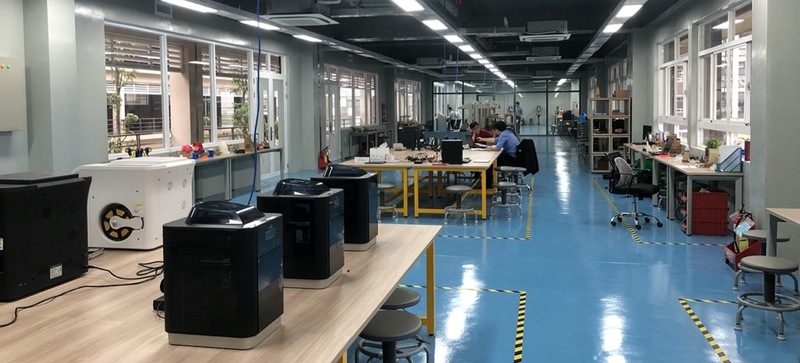 EIU FabLab
https://www.fablabs.io/labs/eiufablab
Eastern International University, Nam Ky Khoi Nghia Street, Hoa Phu Ward, Thu Dau Mot, Binh Duong, 75114, Viet Nam
EIU FabLab, located in the School of Engineering at EIU campus, is the first FabLab in Binh Duong province, Vietnam. Together with the Becamex Business Incubator, EIU FabLab is one of EIU's efforts to build up an ecosystem for startup in technology and engineering serving the development of Binh Duong Smart City EIU FabLab is established to offer modern technology access for motivating, fostering and supporting innovative activities to EIU's students, faculty and local community.
EIU FabLab area is about 800m2 including 2 main zones: co-working zone for idea conceiving and designing; prototyping zone for prototyping, assembling and testing. Co-working zone can host training classes, workshops and seminars for up to 100 attendees. In this zone, we provide space for team working with desktop computers. In prototyping zone, we provide 3D printers, 3D scanner, laser cutter, vinyl cutter, mini CNC milling machine, mini lathe, milling machine, table saw machine, scroll saw machine, jigsaw machine, nibbler machine, drilling machine, bench grinder, hand grinder, DC power supply, AC (1 phase and 3 phases) power supply, function generator, oscilloscopes, desktop computers, arduino, raspberry pi 3…etc. The EIU Fablab team include 5 technicians and 1 coordinator. Currently, we offer free training courses from 3D design to Arduino's programming. At the beginning, we offer free machine using fee however users must pay material and basic cutting tools such as mini milling cutter, drilling tools. EIU FabLab opens from Monday to Saturday, official working time (8 AM to 17PM).
Links
Lab Capabilities
Impressão 3D
Usinagem CNC
Produção de circuitos
Corte Laser/Gravação
Usinagem de precisão
Para quem é voltado o fablabs.io?
Discuss this Lab on forum.fablabs.io