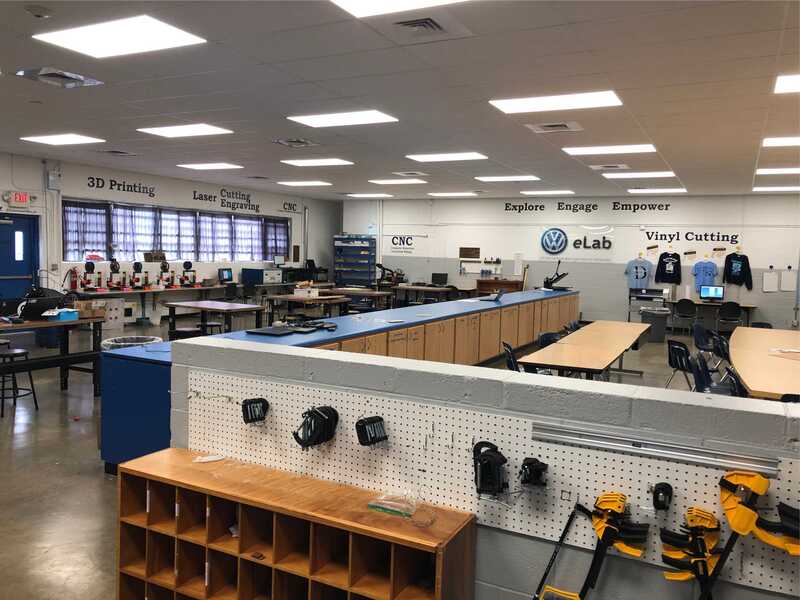 VW eLab at Dalewood Middle School
https://www.fablabs.io/labs/dalewoodvewlab
1300 Shallowford Rd, Chattanooga, TN, 37405, United States of America
The VW eLab is a critical component of Dalewood Middle School's learning environment, enriching students' educational experience as a related arts class, an academic digital fabrication space, a student run business center, and an after school program. During eLab related arts classes, students create solutions to address real-world challenges in business, engineering, and design. Academic subject area classrooms frequently utilize the VW eLab to extend learning beyond the typical classroom and integrate digital fabrication into academic mPBL's. Students learn entrepreneurial and digital design skills by managing a t-shirt design and manufacturing business, marketing to peers, faculty, sports teams, and local customers. After school, the VW eLab becomes a makerspace, where students remain engaged in group and individualized learning environments. We offer several after-school opportunities throughout the year, including a student-run business, an electric race car team, student-parent digital learning opportunities, and robotics (new this year). In addition to classroom and small group sessions, VW eLab student projects and advanced digital fabrication tutoring sessions address the educational needs of individual students. By implementing this multi-use model, the Dalewood Middle School VW eLab provides diverse learning and "making" opportunities to empower students with critical life skills in problem-solving, collaboration, leadership, and the application of academic core content.
Links
Lab Capabilities
Impressão 3D
Usinagem CNC
Produção de circuitos
Corte Laser/Gravação
Para quem é voltado o fablabs.io?
Discuss this Lab on forum.fablabs.io