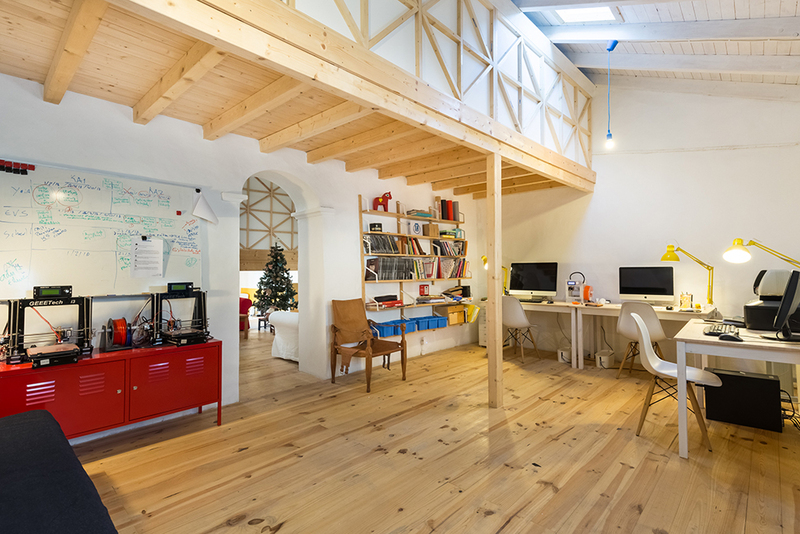 Buinho Fablab
https://www.fablabs.io/labs/buinho
Messejana, Rua Nova de São Brás, 43, Messejana, Aljustrel, 7600, Portugal
Buinho Fablab is a place where artists, makers, researchers, and other creatives can work on their projects in the unique rural environment.
It is the perfect place for studying theory and for getting hands dirty with practice. The aim of Buinho Association is to be an inspiring place which fosters creativity, collaboration and innovation. In 2015 we created one of the very first rural FabLabs in Portugal, and together with it, one of the first residency programs within a fablab in Europe.
In 2019 another house was added to Buinho, to provide more space for the residents.Both the fablab and residency house of São Joao are traditional adobe house, located in the historic quarters of Messejana. Originally built in 19th century, they are now completely remodeled, offering wide-open studios, access to the equipment and tools, as well as an intimate and familiar environment. The two houses together can accommodate up to 6 people in single and double bedrooms. Our vision is to build a network of creative spaces in the historic town Messejana, always available to our members and residents. Those spaces will complement each other and offer diverse possibilities of collaboration and experimentation.
The workshop is equipped with two CNC mill, two laser cutters, multiple 3d printers, and various tools and machines for traditional woodwork. We will soon add a small silkscreen print station, and our studios offers vinyl cutter, sewing machine, several Arduino boards, soldering equipment, electronics, sensors, and other components to be used in creative projects.
We are a non for profit that aims to bring technology and coding closer to children from rural areas through a set of playful educational activities. Our educational program intent to aid children and youth from rural areas have better future opportunities by helping them to become more technologically literate. Taking advantage of our community of creatives and our unique rural FabLab capabilities, our objective is to create engaging, rich and playful activities which can transform complex technology into something easy to understand and fun.
For more information please visit our website
Links
Lab Capabilities
3D-Drucken
CNC-Fräsen
Leiterplattenherstellung
Laserschneiden/-gravieren
Präzisionsfräsen
Schneideplotten
Machines
Discuss this Lab on forum.fablabs.io