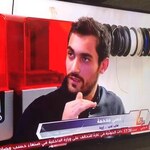 Kusay Malahmeh
Joined over 2 years ago.
A maker specialized in the field of 3D Printing, I currently work as Senior FabLab Coordinator at FabLab Irbid, Jordan's first fabrication laboratory. 
Recently graduated Fab Academy (How to make almost anything), an intensive 6 months program on digital fabrication originated from MIT. 
​During Fab Academy, I have gained knowledge in different digital fabrication technologies, such as: Electronics Design, Production & Programming, CNC Milling, Laser Cutting, Molding & Casting and many others. 
The knowledge I have gained has been a great asset to my work at the FabLab, since then I have been able to create many projects such as:
.The Fab Extruder: A filament recycling machine built from scratch as the graduation project of Fab Academy. 
.The Curing Box: a device to cure SLA Prints. 
.The Augmented reality SandBox: a project that utilizes the Xbox360 Kinect to project the topography of the sands.