Description
AAVOID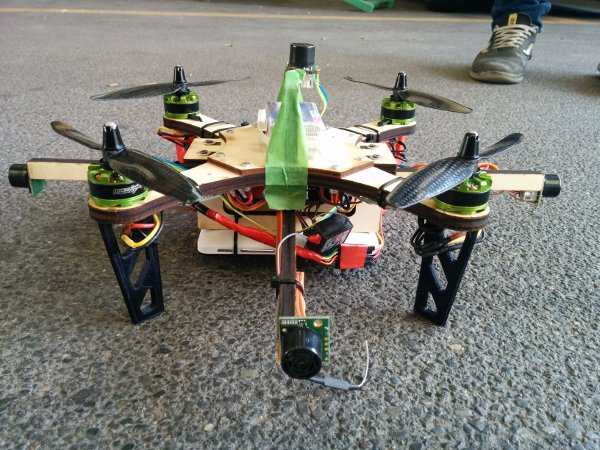 Autonomous Assembly aVOIding Drone: an internet connected, almost fabbed, smart quadcopter.
With the original intention of making an obstacle avoidance, cooperation capable drone, main objectives of this FabAcademy final projects are now involved in developing an open source, highly replicable hardware and software platform, as a starting point for anyone who wants to build a low cost and customizable smart drone. AAVOID can be easily built with common FabLab equipment such as a laser cutter machine for the frame, a 3D printer for the foots, and a desktop CNC mill for the electronic board. Also, if you don't want any advanced feature, you can modularly build AAVOID with just what you need/want, for example obtaining a normal flying drone.
Actual prototype achieved following results:
-be almost fabbable
-do almost perfect flights
-bring onboard a smartphone
-send real time data through internet
-automatically try to avoid obstacles such as walls and people
-be an open & low cost platform to develope a smart & fabbable drone
Here you can see a video about development and results of FabAcademy prototype: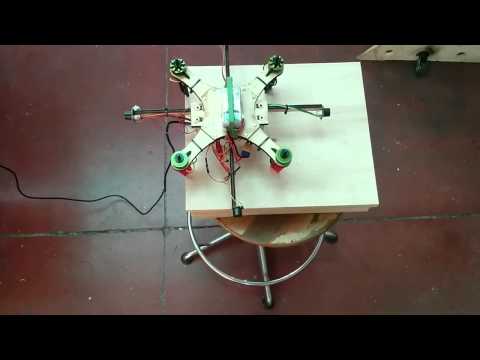 Images
Scope
It seems that's not so easy to fab a drone capable of stable flight. Not to mention to obtain some smart features that only some advanced & research drone prototypes have. With AAVOID I tried to push as much as possible these aspects, while maintaining constraints of a fabbable, replicable and affordable drone. So, even if at the beginning, main objectives of AAVOID were to be able to avoid obstacles and cooperate with other drones, now I think that's more important if someone could use it as a starting point to build its own, open source, smart drone.
I'd like to think about future plans of AAVOID as the chance to continue develop its smart features, and also to further simplify software and hardware development for it, in order to give to anyone an easy start in making fabbed drones/smart drones. Also, it will be interesting to develop different AAVOID versions, each specialized in a specific context of application, such as:
-smart monitoring drones
-rescue drones
-drones in a dangerous environment
-cooperating drones as intelligent transport systems
-security inspection drones
-data collection drones
-etc...
FAQ
Q:What is AAVOID?
A:Autonomous Assembly aVOIding Drone is a smart quadcopter that is possible to fabricate in a FabLab. Also, it's an open source platform to start developing your own smart drone.
Q:What machines do you need to make an AAVOID?
A:- laser cutting machine
- 3D printer
- circuit CNC mill (or a more expensive fiber laser machine)
- computer to program it
Q:Where I can find documentation, files and software needed to build AAVOID?
A:Here: AAVOID@FabAcademy
Q:How much AAVOID will cost?
A:It depends on the features you want/need. Also, you can use different parts in order to have a cheaper drone. My FabAcademy prototype, ready to fly, costs:
- 260€, fly only
- 480€, with 6xMB1240 sonar sensors, avoid obstacles
- 600€, with onboard smartphone, internet connected and further developement of deliberative avoidance system
Q:Is AAVOID capable to do stable flights?
A:Yes. I made several tests, also with wind and an onboard cup od water. Here are some videos about AAVOID playlist
Q:Is AAVOID capable to avoid obstacles?
A:Yes, but in a very simple way that consists in going away from them. This mainly because I hadn't time/space to do required tests in oder to obtain better and advanced behaviours.
Q:What's PRACTIONIST?
A:PRACTIcal reasONIng siSTem is an open source framework to develop intelligent agent accordingly with Michael Bratman theory of Belief Desire Intention. I'm one of the active developer of this Multiple Agent System, of which I've made also a version for Android OS, called PRACTIONISTDroid. Onboard of AAVOID there is a PRACTIONISTDroid app that is capable to send and receive data from the autopilot board. Here you can find more information:PRACTIONIST
Q:Of which components is made actual prototype of AAVOID?
A:- an HSPDA connected, Android 4.4 smartphone, with an PRACTIONISTDroid app
- a dual processor modified satshakit board, one MCU as flight controller w/ MultiWii, the other for C Autopilot
- Drotek 10DOF IMU
- 6 x MB1240 MaxBotix XL-MaxSonar (down, left, right, front, rear, up)
- 4 x Multistar 2150KV motors
- 4 x 12A Afro escs
- 1 x LiPo 1300mha 3S battery
Q:Under which license is released AAVOID?
A:Hardware of AAVOID is released under the terms of Attribution-NonCommercial-ShareAlike 4.0 International CC BY-NC-SA 4.0, while its software is released under the terms of the GNU Lesser General Public License v2.1 LGPL
Discuss this Project on discuss.fablabs.io